Today, the demand for ice cubes is becoming popular, many households, eateries, restaurants, … all use it. Ice cubes are not only used to combine with drinking water to create coolness for hot summer, but also used to marinate seafood, cooled by cold air from ice cubes.
Understanding that need, ICECOOL with more than 10 years of experience in the field of manufacturing ice machines has launched many models with different capacities for customers to choose the appropriate capacity.
Recently, ICE COOL has supplied and installed a 5-ton ice machine at Mo Duc (Quang Ngai), this is a pure ice production system with a capacity of 5 tons/day including equipment: Ice machine 5 tons pellets, 12m3 cold storage and water purification equipment.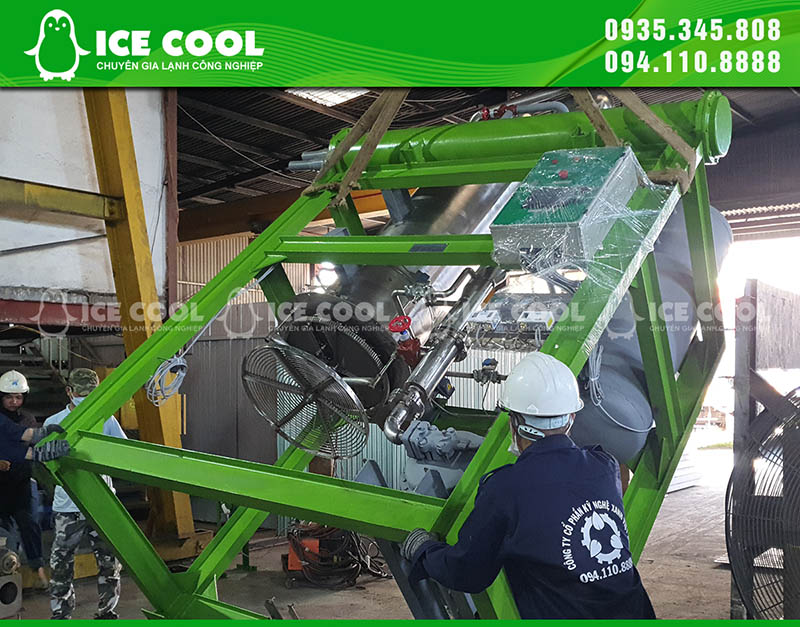 ICECOOL is extremely popular among customers
After learning about the market as well as the current clean ice production technology, Anh Duy chose ICE COOL as a consultant and supplier of clean ice making equipment for himself. The brand of ice machine ICE COOL is considered by him as a professional and a leader in technology.
What makes him interested is the simple and flexible control HMI screen, through the screen can easily control each device, monitor each parameter and can check the operation of the devices to Easy routine maintenance.
Pictures of the installation of a 5 ton ice machine at Mo Duc Quang Ngai
Here are some pictures of ICE COOL installing a 5-ton  ice machine at Mo Duc recording the process of transporting ice equipment to the installation site, a specialized crane truck will bring the equipment from the ICE factory. COOL comes to customers, after putting the equipment in place, the technical team, ICE COOL engineers will install water supply and drainage pipes, electrical systems and be ready to go into ice business right away.
After installing the systems and equipment, the ice machine went into operation at Mo Duc Quang Ngai
For all inquiries and quotations for ice machines , please contact Tel (Zalo): 094 110 8888 , we will support you in the most detail.
Thank you for your interest in the article about the ice machine factory, hope that the information shared about the ice machine ICE COOL will help you more in learning and investing in the current ice factory. . Any need for advice, please contact the ice maker  ICE COOL immediately according to the information above.