Frozen fish is a very popular food used in today's life. However, some consumers think that frozen products are not good for health, it can cause poisoning. So, is frozen fish really good quality? Safe for user health? Find out in the article below.
What is frozen fish?
Fish is one of the foods with high nutrient content, very good for human health. Each fish species will have different flavors and nutrients. Therefore, the demand for fish every day in our country is increasing day by day. In particular, some types are also exported to many other markets around the world.
Frozen fish is made from fresh fish. The fish will be preliminarily processed, cleaned and frozen at low temperatures to ensure the best quality for a long time. The appropriate temperature to store fish is -36 degrees Celsius and the best freezing time is 12 to 18 months.
Currently, the price of frozen fish is much cheaper than that of fresh fish. Besides, it also meets the needs of people in the current 4.0 era.
How long is the shelf life of frozen fish?
The fish use time will be printed on the packaging. The best time to use is up to 30 days from the date of catch. In addition, frozen fish at -18 degrees Celsius to -30 degrees Celsius will be stored for about 12 months.
At -36 degrees Celsius, the time can be up to 18 months. However, as time goes on, the nutritional value of fish will gradually decrease. Along with that, the fish meat will not be as delicious as the original.
Is eating frozen fish good?
Fish that is frozen properly and reasonably will ensure nutritional value up to 90% compared to fresh fish. Besides, the freezing process will not have to use any preservative chemicals, so it is very hygienic and safe for food.
In a low temperature environment, microorganisms will not be able to live and grow. So they won't be able to damage the fish. This helps the fish keep its good quality for a long time.
When processing, you need to defrost fish properly so as not to lose freshness and lose nutrients. Along with that, please cook it carefully to ensure the dish is safe for all family members.
After reading this far, you probably know that frozen fish is safe for users' health, right? With a relatively low price and good quality, this type of food is the choice of many customers.
Where to buy a reputable fish freezer?
Because of the increasing demand for frozen fish, freezing equipment is also being bought a lot. And ICE COOL will be a reputable supplier of fish freezers you cannot ignore.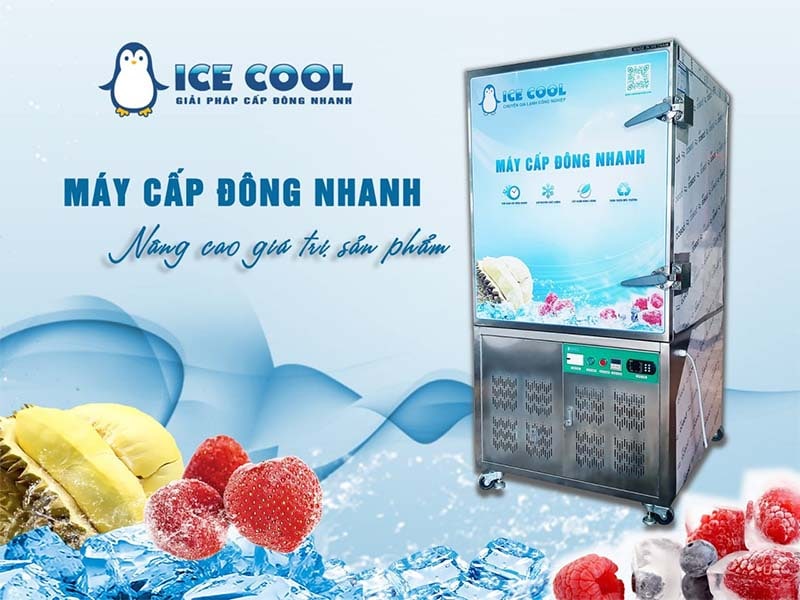 Here, you will choose for yourself a quality fish freezer ICE COOL with suitable size, capacity and price. For more detailed advice on equipment, please contact the company directly via hotline: +84 941108888 .
Hopefully, the information in the above article has helped you better understand frozen fish as well as answer the question of whether the food is safe.